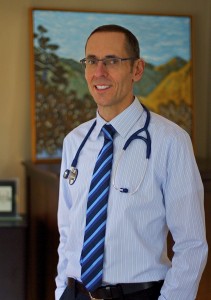 I started my career in environmental consulting after obtaining Bachelor of Science and Master of Science degrees. It was a rewarding career with a focus on assessing and remediating contaminated properties. It was during this time that I came to have an appreciation for the health effects of environmental toxins on our bodies. I had always been interested in nutrition as a form of medicine (Hippocrates, the father of modern medicine, said "let foods be your medicine and medicine be your foods") as well as other forms of alternative healing. I then earned my Naturopathic Doctorate, with honors, from the National University of Natural Medicine (NUNM) in Portland, Oregon. NUNM is one of only four nationally accredited four-year schools of naturopathic medicine in the United States.
I was drawn to natural forms of medicine and healing following my own health challenges and experiences of the short comings of the conventional medical model in addressing underlying causes of chronic disease and imbalance. Fortunately, I was able to recover my health by incorporating natural healing protocols into my life.
In my practice, I seek to treat the whole person, not just address symptoms. My treatment plans typically include a combination of natural medicines and specific lifestyle changes designed to bring balance to every system in the body. I work with many different health issues and am particularly interested in treating those with chronic and degenerative diseases including those with digestive problems, auto-immune disease, thyroid and other endocrine imbalances, and chronic fatigue.
In naturopathic medical school, I trained extensively in the areas of clinical nutrition, classical homeopathy, botanical medicine, and lifestyle counseling as well as conventional medical treatments. I have completed additional training in functional medicine (functional blood chemistry, endocrinology, immunology and neurology) and classical homeopathy, receiving a Certificate of Completion from the prestigious New England School of Homeopathy. In addition, I received extensive clinical and extracurricular training in biotherapeutic drainage working closely with my mentor Dr. Dick Thom.
I am also a member of the American Association of Naturopathic Physicians and the California Naturopathic Doctors Association.
Thank you for taking the time to learn a bit about me,
Tom Matteucci, ND